Term 3, Week 8 2021
Kia ora koutou,
We hope this newsletter finds you all safe and well in your bubble.
Yesterday afternoon the Prime Minister announced a continuation of Alert Level 4 for all of us in Auckland. Our staff are well prepared and will continue to work together providing our high quality home learning programme for our tamariki.
I would like to acknowledge the staff at our kura for continuing to do such an amazing job of keeping in touch with our whānau and tamariki to support both their home learning and wellbeing – thank you.
Thank you parents/caregivers for continuing with the "many hats" you are wearing at the moment: parent, teacher, caregiver, employee, employer, those studying, to name just a few.
We are all so privileged to be part of such a supportive and connected community.
As our Lockdown continues please remember that we are here to support you and please do not hesitate to reach out and make contact with your class teacher or myself vickip@botanydowns.school.nz, Mark Insley marki@botanydowns.school.nz or Lisa Bethune lisab@botanydowns.school.nz.
PhotoLife – Class and Individual photos
Unfortunately due to New Zealand moving to Level 4 in August, we were unable to send home your child's "Photo Shot Keycode". If you would like to order your child's class and individual photo, please email Aroha Bishop at office@botanydowns.school.nz.
Please state your child's name and room number, and you will be sent the "Photo Shot Keycode". Photos can be viewed and ordered but will not be sent out until Level 2.
Events for Term 3
Sadly but as expected, all planned events have now been cancelled due to the extension of the lockdown. This includes our Cultural Evening that we had planned for term 3. A selection of these cultural songs and dances will instead feature in our prize giving at the end of the year.
Te Wiki o te Reo Māori
This week is Māori Language Week to encourage all New Zealanders to promote the use of the Māori language, which, along with New Zealand Sign Language, is an official language of the country.
Our teachers will be providing home learning for your tamariki to practise and learn te Reo Māori. It is a great opportunity to join in and learn alongside your tamariki.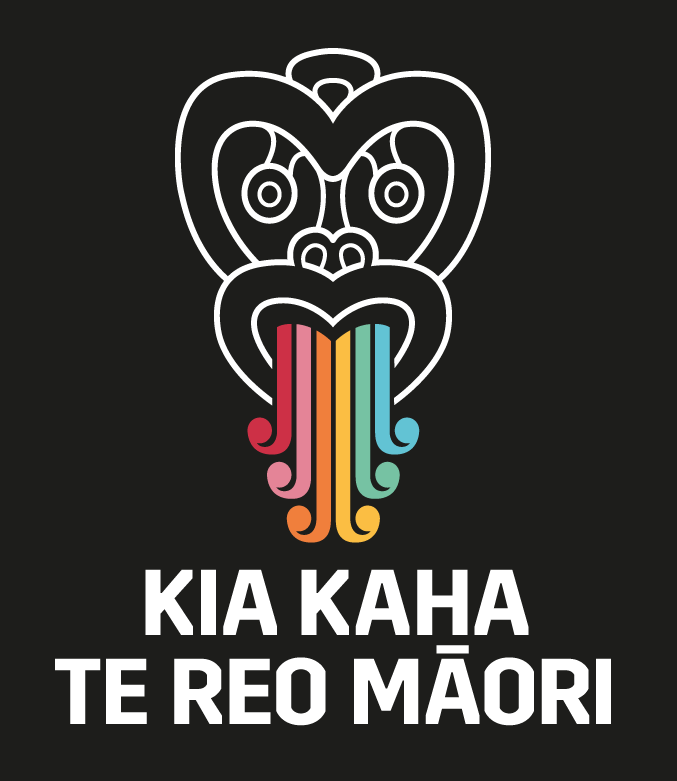 School App Update
Please note, that while we await the new Kiwi Schools App, we continue to use the current app (School Apps), and ask all our new families to please download this in order to keep up to date with notifications. Please download School Apps from your appstore, or follow this link: https://schoolappsnz.co.nz/
The following message is from the Kiwi Schools team:
Kia ora,
I'm writing to update you on the progress with our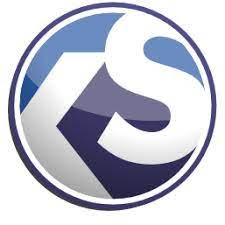 smartphone app, KS Connect.
We had sincerely hoped to have the release ready to go by now, however, with some unforeseen stumbling blocks, as well as our developer homeschooling his young children, this has not happened.
We have moved into the testing stage for the new version, but do want to make sure we have tested for every eventuality before release.
We are not cutting any corners with this rebuild. We would rather wait (and ask you to bear with us!) until we have full confidence in the new build so we do not end up in this situation again.
Tongan Language Week – Sekona Family
Malo e lelei! Last week was Tongan Language week. A very big thankyou to the Sekona family for sharing their pictures showing various forms of dressing in Tongan culture:
Dressed for a special occasion
Dressing for a Ta'olunga dance
Room 20 has been busy writing about Being Brave…
So first, you want to know how scared I am? When I'm alone I am a scaredy cat; when it is a little dark and especially when it is fully dark. And the place I am most scared of is my backyard. It might sound crazy but it is true.
There is a place behind our garage that is connected to our backyard.
It happened around 6:35pm, and I had never been out this late before. My toys in the garden were everywhere. And some were near the back of the garage. I call this place the BTG. It stands for Behind The Garage. Iwas very scared to go to the BTG. But I was feeling confident because I was
talking to myself that I can do this. I ignored all my fear and picked up my toys from the BTG. I was very, very brave. Well, at least it is over… for now.
Amelia
One day when I was having hot chocolate and biscuits with my family at our kitchen counter, a moth flew into the kitchen.
The front door was open so the moth flew onto the fridge. It was grey and brown and not very big.
I'm scared of moths, so at first I jumped and moved away, but my dad said moths don't hurt.
Even though I was scared, I gently let the moth crawl onto my hand and I slowly started to walk to the door while my dad was opening it, and I blew the moth outside.
Amarah
It's easier to stand up to your enemies than your friends because you don't like your enemies. They sometimes give me a frowning look and I just stare back as if to say, "Don't look at me."
I find it harder to stand up to my friends because you like their personality and who they are and I care about them and what they think of me.
Leo B
When I first went on a mountain bike adventure with my dad…
I first saw a big jump and I went for it. I fell down again and again and again
I got the courage and I was very brave to do that Jump again.
It was called the XXX . I really improved so much, as we practised every Saturday with my jumping skills..
Finally I did the jump with loads of excitement and smiles.
Caden
Room 12 has also been busy: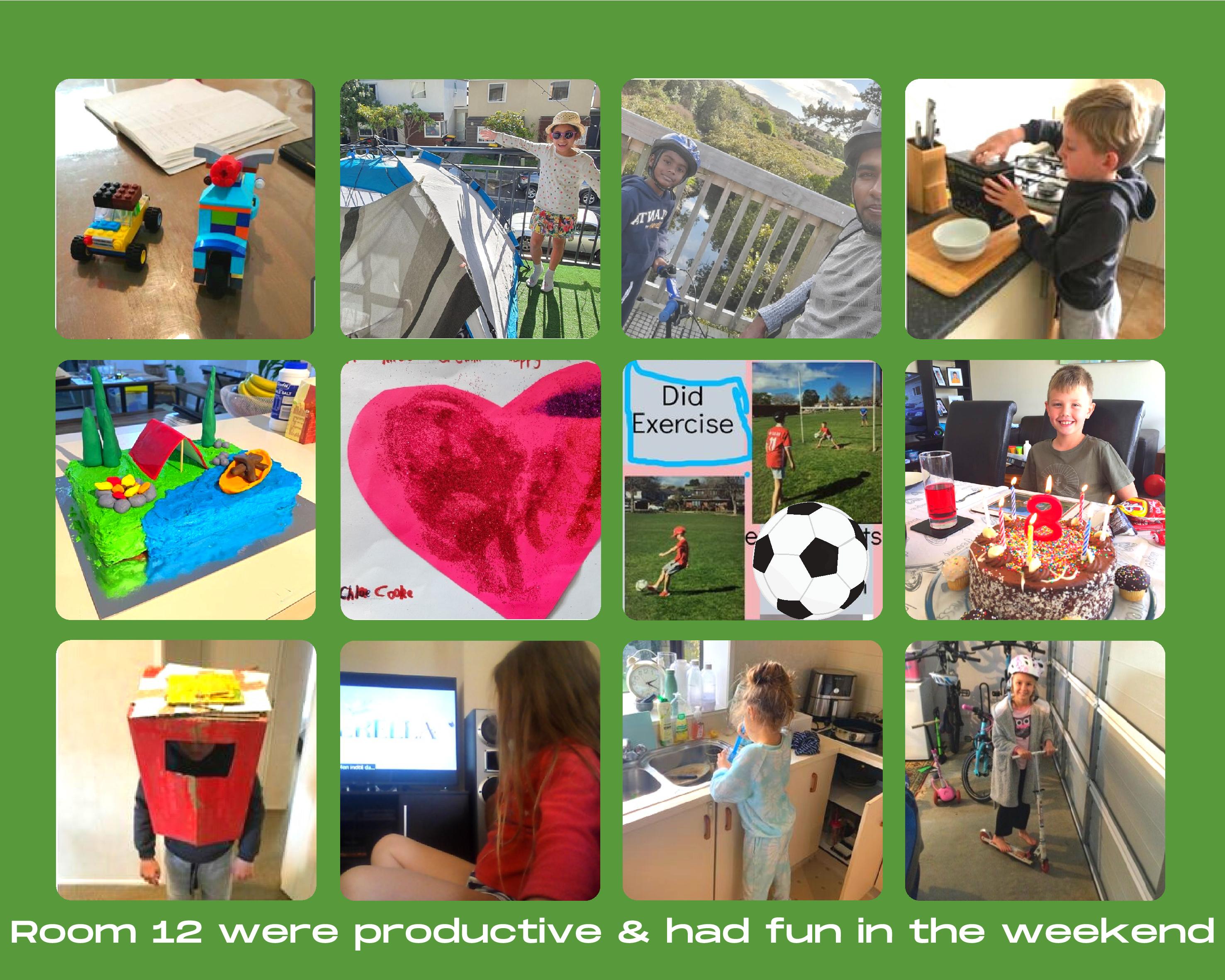 Louisfrom Room 8 created this book character from Dog Man – meet Munchy: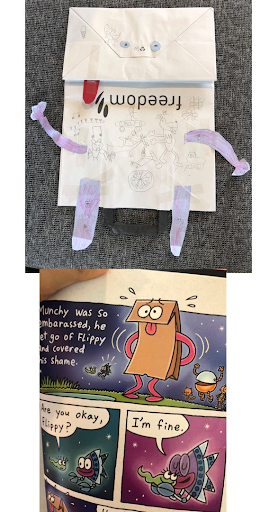 Have You Checked Out the eLibrary Yet?
Follow this link to find out more about the eLibrary, and how to log in: https://www.botanydowns.school.nz/learning-at-home-links/ (Scroll down to the 'Additional Learning Links' section)
Your child has been set up with a log in and will be able to borrow books to read on any device (via a downloaded app).
The eLibrary will be available from now until 27 November 2021.
Please help your child to login, and enjoy browsing the eLibrary together. Some titles are age restricted and will not be available to your child if they are not in the appropriate year level. The eLibrary is curated by Wheelers New Zealand.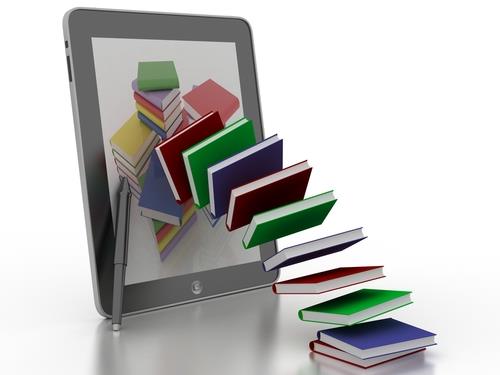 Scholastic Lucky Book Club
Scholastic have advised us that due to the current lockdown, book orders from the last issue will be held until Auckland returns to Level 2. They will endeavour to get these delivered as soon as they can, once we are all back at school.
Thank you for your patience and understanding.
Due to the popularity of these workshops, an additional date has been added:
COVID information for Pacific communities

Key information on COVID-19 is available in nine Pacific languages on the Ministry for Pacific Peoples website.
COVID information in other languages
The Ministry of Ethnic Communities has released some videos in different languages about the "Golden Rules for Level 4":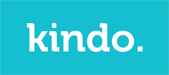 Pay the kindo way: https://botanydowns.school.nz/kindo/
Copyright © Botany Downs Primary School 2021
Click
here
to unsubscribe.