Botany Downs offers opportunities for students to take on leadership roles.
House Leader: Year 6 children who express an interest in becoming a House Leader complete an application form, are given problem-solving tasks and attend a group interview. Teachers then have the tricky task of narrowing down and selecting 12 deserving students from a large group of worthy candidates. Botany Downs School fosters 'BEST' values of Belief, Excellence, Skills and Thoughtfulness and the House Leaders endeavour to lead their Houses with these values in mind.
Congratulations to the following students who have been selected as House Leaders for 2021:
Batten House: Risa Miyata, Kate Fleming, Johnny Zhou
Blake House: Blake Lundgren, Charlie McNae, Jessie Seok
Hillary House: Ann-Maria Sekona, Yuni Choi, Jana Hamayun 
Sheppard House: Navia Ranchhod, Anthan Tai, Donna Xue
Peer Mediators: Botany Downs runs a Cool Schools Peer Mediation Programme, which enables students to act as third party mediators between two or more of their peers, who are caught up in a disagreement and want to see it resolved constructively.  The Cool Schools Peer Mediation Programme teaches essential life skills for peaceful conflict resolution. The skills taught empower individuals to build positive, caring relationships with others. Students in Year 6 can apply to be part of the Peer Mediator team.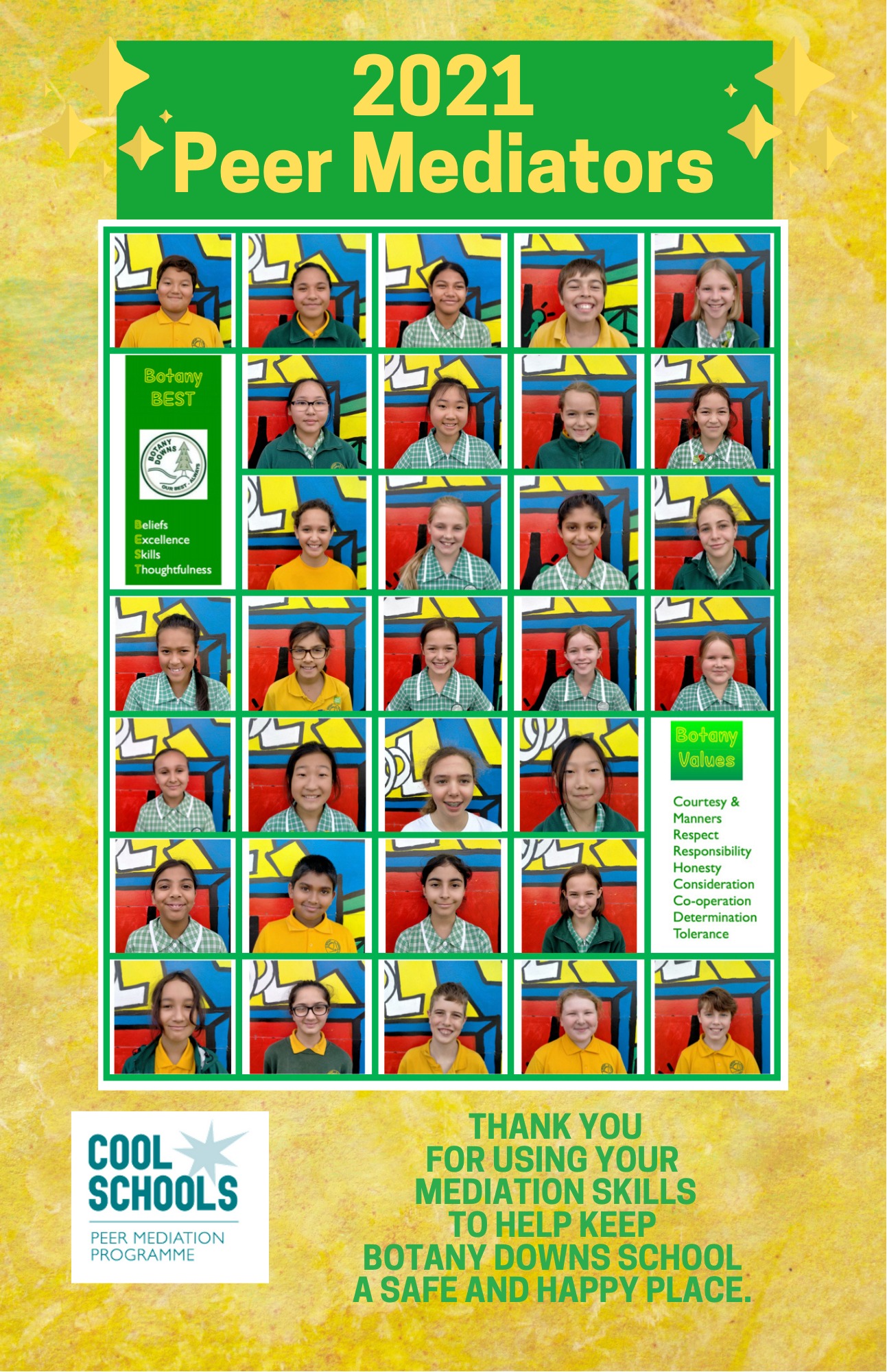 School Councillors:
Year 5 and 6 students are invited to apply for and then selected to become a School Councillor. The role of a Student Councillor is to give feedback and opinions in relation to school events, issues and process; and to feed-back the views of their classmates to the Council and the Deputy Principal. The student council also helps share the students'ideas, interests, and concerns with teachers, the Deputy Principal and Principal. 
Service to the school: Senior students can also take on the following service roles within the school:
Road Patrol
Student Librarian
A&V Monitor
PE Shed Monitor
Flag Monitor
Staffroom Monitor
Wet Day Monitor
Travel Wise