Kia ora koutou BDS whānau, Week 3, Term 2, 2022
Thank you to our amazing PTA who are fundraising for the Turf underneath our two canopies. We have already had a huge response for selling chocolates and we wish to thank whānau who are already participating in this fundraiser. Please see below if you still wish to participate.
If you wish to prepare in advance for our sporting and cultural events, visit our school calendar on our website. We certainly are 'back to normal' with the opportunities available to our tamariki at BDS. Please also re-visit our Week 1 Newsletter for our lunchtimes activities.
Have a great week everyone.

Ngā mihi nui,
Vicki Parkins Principal vickip@botanydowns.school.nz
Coming up @ BDS…
Week 1, 2 & 3 – Life Education (Harold)
Wed 18 May – BOT meeting
Fri 27 May – School Pōwhiri
Fri 3 June – Teacher Only Day
Mon 6 June – Queen's Birthday (public holiday)
Fri 24 June – Matariki Holiday (public holiday)
Mon 27 June – Teacher Only Day
Week 10 – BOOK WEEK
Wed 6 July – Parent/teacher interviews, 3.20-5.10pm
Thurs 7 July – Parent/teacher interviews, 3.20-7.40pm
Fri 8 July – Book Character Parade / Last Day of Term
Whittakers Chocolates
This is our biggest fundraiser of the year!
Thank you to everyone who has returned their forms. Boxes of chocolate went out on Friday for those who returned the form saying they want to sell them this year. Once the box is sold please remember to fill in the form sent home with the box and return it with the money raised. Also, let us know if you would like another box to sell or not.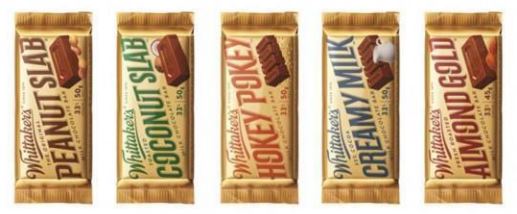 PRIZE UP FOR GRABS!
The family that sells the most boxes will win our best seller prize –
A family pass to Rainbows End!
This fundraiser will finish on the 17th of June – thanks for your support!
BDS PTA, pta@botanydowns.school.nz
Botany BEST & Values
Botany BEST: Ashley Cajayon, Roxas Eason, Japjot Hanjra, Angela Chen, Damien Davey, Harlen Hadrup, Kyle Forrest, Lila Hawkins, Eleanor Booth, Isaac Angove, Brisha Mehta, Ire Olajide, Niamh Hunkin, Chanté Bester, Kayde Herbert, Darya Shahamiri, Sue-Mari Steyn, Ofa Fifita, and Nathan Li.
Values: Adam Shawani, Ali Alsharefi, Lillias Fisher, Cordelia Prentice, Jennifer Wu, Charlie Gao, Jacob Dai, Noah Ellis, Mac He, Jaiden Wang, Rachel Hu, Bella Hu, Jon Wu, Emma Li, Olivia Huang, Olivia Sun, Maxwell Yang, Mikaela Leenen, Ashley Field, Gemma Yee, and Chloe Cooke.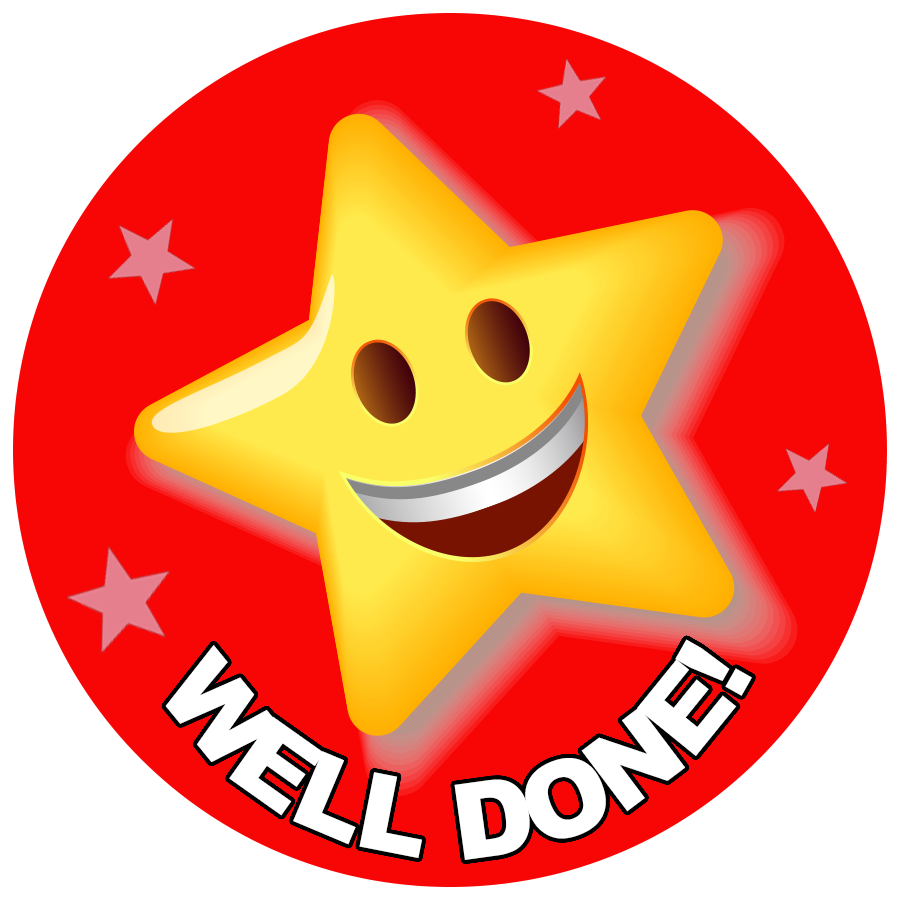 Certificates and Bookmarks will be given out either at our school assembly under the canopy or in class, depending on the weather. This will not necessarily be a Friday. Thank you.
Botany Downs School Pōwhiri
Our school will hold a Pōwhiri in Week 4 which is a traditional Māori welcoming ceremony; a process where the host welcome visitors, usually on a marae but in this instance to our school. This ceremony is our way of welcoming new students and staff, along with their families into the Botany Downs School community.
Whānau (family) of new students who have started at our school this year and whānau of Years 0 and 1s are welcome to come to our Pōwhiri. Please join us…
Friday 27th May
(Saving Day: 1st of June)
Assemble by the staff room at 9:30am
Pōwhiri will begin at 9:45am.
Part of the pōwhiri process includes a male who will speak on behalf of our manuhiri (visitors) which will be followed by a waiata to support their speech. Whānau are welcome to join in and sing the following waiata:
Te Aroha
Te aroha
Te whakapono
Me te rangimarie
Tatou tatou e (x2)
To conclude our pōwhiri, Mrs Parkins will invite our new whanau and students to be greeted by our staff members. Traditionally we would partake in a hongi or harirū (handshake), however due to covid restrictions staff will welcome you verbally. This is followed by kai (food) in the staffroom to complete the pōwhiri process.
Ngā mihi,
Michelle Takaiti, teacher in charge (michellet@botanydowns.school.nz)
Bike Safety
In Week 2 our students got to take part in a bike safety program. Students practiced riding skills as well as learning how to check their gear to make sure it keeps them safe.
Some students were even able to go from never riding a bike to riding laps around the courts on their own. Such a cool experience!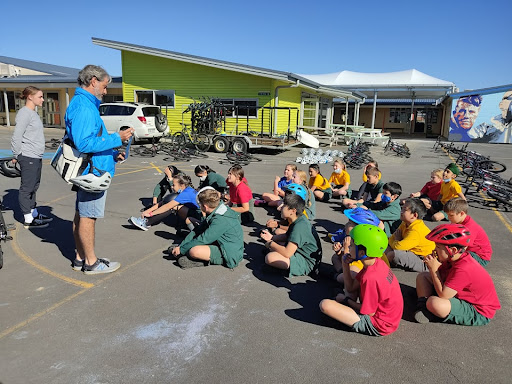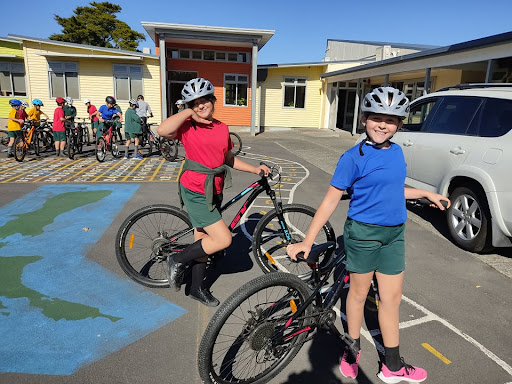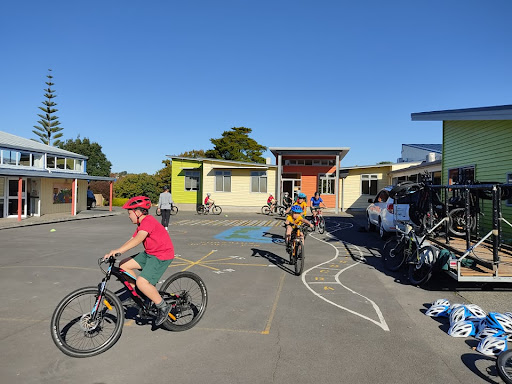 Joe D'Ambrosio, teacher in charge (joed@botanydowns.school.nz)
Bullying-Free Week – Pink Shirt Day
Together We Can Prevent Bullying in Aotearoa
Bullying-free week aims to raise awareness of bullying of children, young people and even adults, in schools and elsewhere, and to highlight ways of preventing and responding to it. Bullying-Free NZ Week 2022 starts on Monday 16 May and ends with Pink Shirt Day on Friday 20 May. The theme for 2022 is "He kōtuinga mahi iti, he hua pai-ā rau: Small ripples create big waves."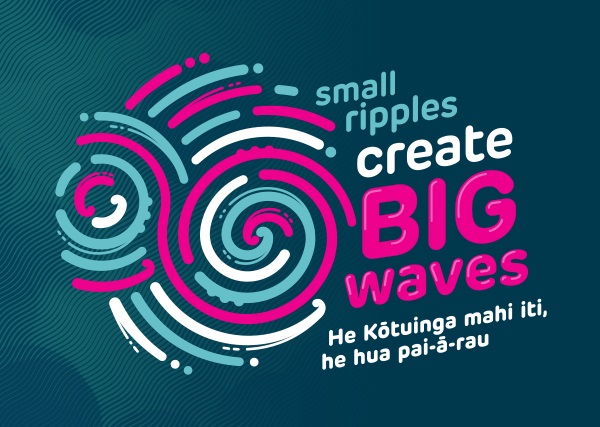 A shared understanding of bullying helps school, parents and whānau, and their communities prevent and respond consistently and appropriately. Bullying is deliberate, harmful, involves a power imbalance, and has an element of repetition. Bullying isn't good for anyone. Here at Botany Downs we take bullying very seriously so take a stand with us and help our school be bully-free.
On Friday 20 May our students may wear pink with their school uniform. Please note this is NOT a mufti day, but pink clips or hair ties, pink socks or a pink t-shirt may be worn.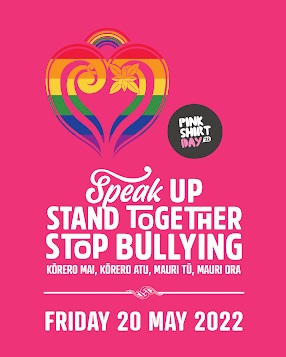 Jacquie O'Driscoll, teacher in charge (jacquieo@botanydowns.school.nz)
BDS Learning and Fun
Junior: Year 2 -Room 4
Last week we visited Harold in the life education van. Here are some of our recounts about our visit: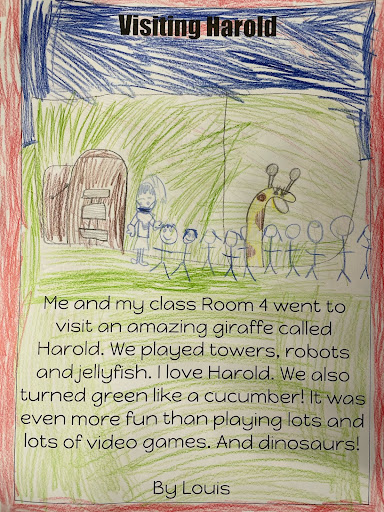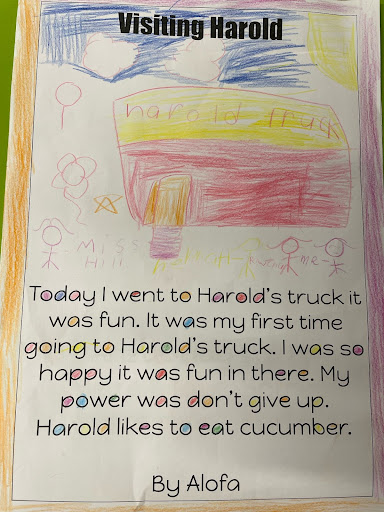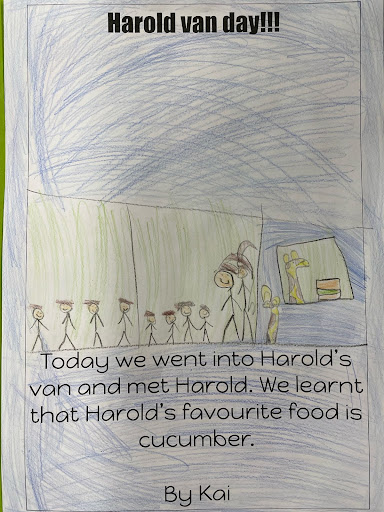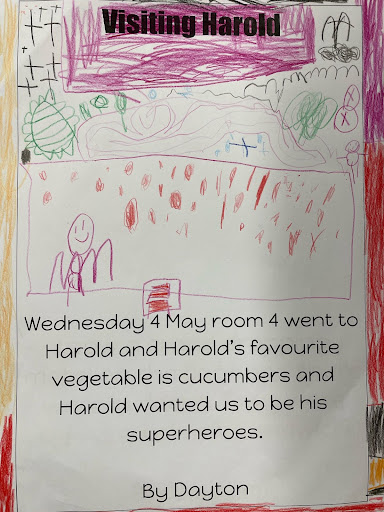 Middle: Year 3 – Room 6
Artwork proudly displayed in the office foyer and sick bay!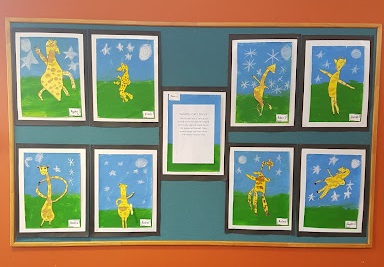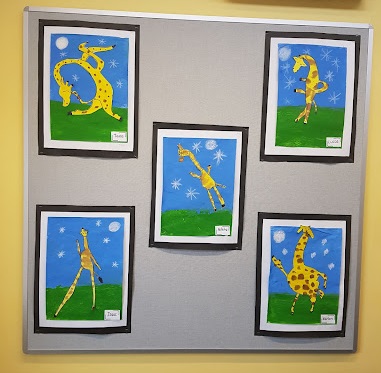 Room 6 have been busy learning about Relationships and Community. We completed some artwork that was inspired by the book " Giraffes Can't Dance". In this book Harold the giraffe can't dance and all the jungle animals are mean to him. a cricket becomes his friend and teaches him that he can dance. He just needs his own music.
Senior: Year 5 – Room 15
In Room 15 we have been studying Eric Carle, the author and illustrator of The Very Hungry Caterpillar. He painted tissues and used them to collage his illustrations. We have been trialling different ways to paint tissues without ripping them, we are being very patient.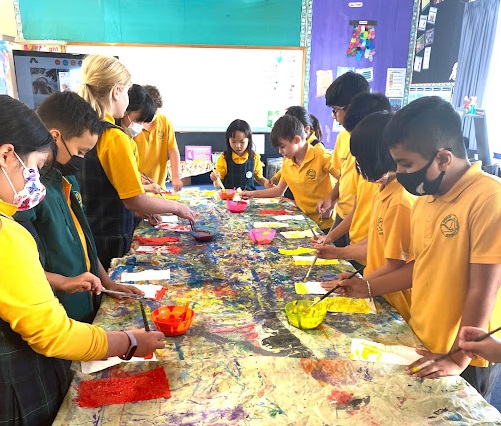 Children Turning Five
If your child is turnng five in the next 12 months please ensure you enrol them as soon as possible. Our roll is steadily growing and we need to plan for classes and teachers during the year. Please collect your enrolment pack from the office, or email office@botanydowns.school.nz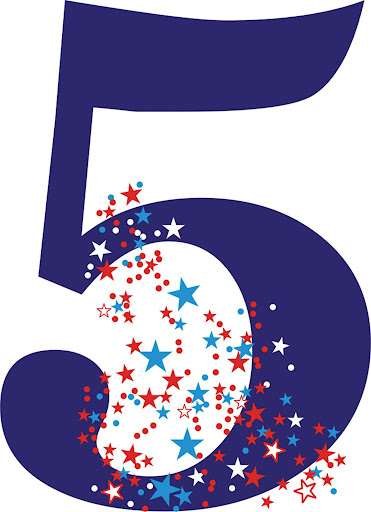 Joanne Hughson Deputy Principal Years 0-3 (joanneh@botanydowns.school.nz)
Notifying the School of a Positive COVID Case
Pleae continue to notify us if your child has tested positive for COVID-19 and also let us know if they were contagious while at school. We will continue to email the class if there is a positive COVID case at school. Thank you.
Please notify us at: office@botanydowns.school.nz or phone 534 9848.
Windsong Court Residents Need Your Help
The local residents in Windsong Court are having trouble getting out of their driveways. Our parents who are picking up their tamariki are parking either in the residents driveways or across their driveways. Although you may think this is only for a few minutes it is having an impact on these property owners. Please park on the road near the curb. Thank you.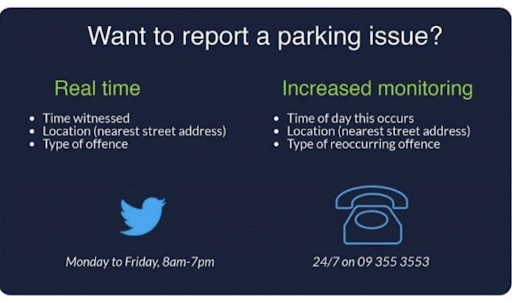 BDS eLibrary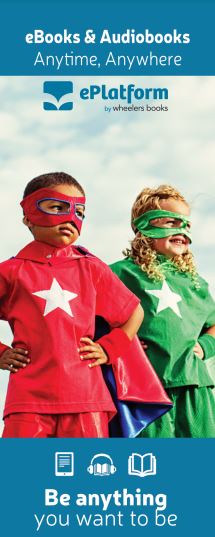 Remember to check out our eLibrary! Details on how to login and borrow great books to read on your device can be found on the school website here: https://www.botanydowns.school.nz/library/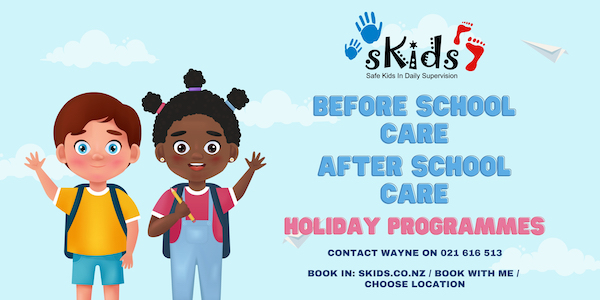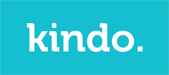 Pay the kindo way: https://botanydowns.school.nz/kindo/
Copyright © Botany Downs Primary School 2022
Click
here
to unsubscribe.