Kia ora koutou BDS whānau, Week 5, Term 3, 2022


Week 5 is half way through Term 3 and we are looking forward to some warmer weather for the second half of the term. With this in mind it is probably a good time to check all students' school uniform is correctly worn to school and named, including PE gear.
At school, teachers and our tamariki continue to be engaged in outstanding programmes of learning as they build into our Arts Evening in week 9.
We also continue this week to be very involved with the many opportunities that arise for students, such as Girls Soccer, Dance festival, Travelwise Speed Camera Monitoring, ICAS Science exam and Daffodil Day on Friday.
It has been pleasing to see so many of our Year 0-3 classes out practicing for their upcoming cross-country in week 9.
Ngā mihi nui,
Mark Insley Deputy Principal (marki@botanydowns.school.nz)

Coming up @ BDS…
Wed 24 Aug – BOT meeting (postponed) / ICAS Science Yr 5&6
Tues 30 Aug – ICAS Maths Yr 5&6 / Yr 5 Camp parent meeting, 6pm
Tues 6 Sept – Yr 3 Stardome trip
Fri 9 Sept – No Uniform Day: House Colours
Tues 13 Sept – Yr 2 Stardome trip
Wed 14 Sept – Yr 1 Stardome trip: Rms 5, 5a, 8 & 9
Thurs 15 Sept – Yr 1 Stardome trip: Rms 7 & 10
Fri 16 Sept – Yr 4 Stardome trip
Wed 21 Sept – BOT meeting, 6.30pm
Thurs 22 Sept – Arts Evening, 5.00-7.30pm
Botany BEST and Values Awards
Botany BEST:
Juniors Yrs 0-3 (Given out at this week's assembly)
Oliver Wu, Sophie Klee, Yasser El Chami, Louis Hunter, Gemma Williams, Jasmine Yip, Nikita Winterstein, Christian Perry, Jax Bloem, Jaiden Wang, Leroy Karika, Theia Saunders & Charlie Carson.
Seniors Yrs 4-6 (Given out at next week's assembly)
Shivika Narang, Amarah Hoosen, Riley Johnston, Rishi Biju, Karen Taing, Sandy Huang, Mandy Belding, Sana Shikoda, Shana Chen & Chloe Cooke.
Values – Consideration:
Juniors Yrs 0-3 (Given out at this week's assembly)
Zerahiah Turner, Henil Tailor, Chaz Grisselle, Lexie Aucamp, Elliot Cheng, Cassia Grisselle, Isaac Su'a, Daisy Wu, Andrew Liang, Ayeza Zahidani, Rafa Zhao, Vivaan Sharma, Memphis Kwok.
Seniors Yrs 4-6 (Given out at next week's assembly)
Anthony Xu, Lily Karouso, Blake Manson, Martin Duff, Isabella Venter, Jesse Elliott, Ninke Du Plessis, Maanvi Patel, Ruby Turner & Aadhityaa Paarthiban.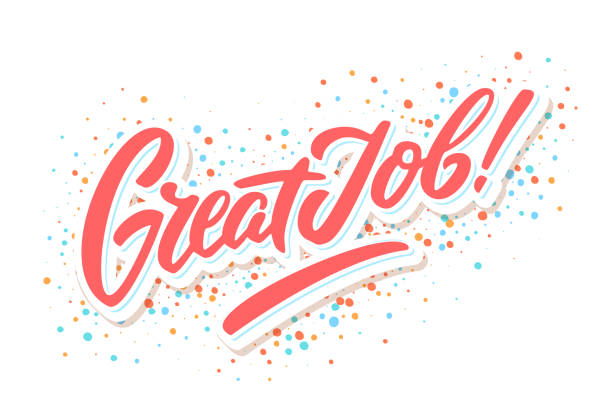 ** please note: this week's assembly is for Juniors (Yr 0-3).
The assembly item will be from Room 2
Daffodil Day Friday 26 August
This Friday is the Cancer Society's annual Daffodil Day. The House Leaders will be selling daffodil ribbons before school outside the hall. Please bring a gold coin to support this very worthwhile cause.
Daffodil Day is the Cancer Society's most important fundraiser. The money raised is used to support patients with cancer and their families.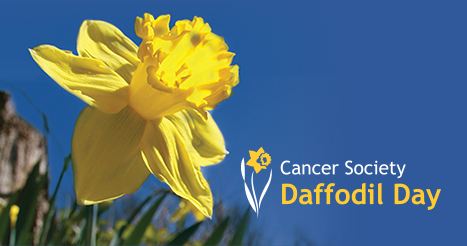 Arts Evening Celebration –
Food Trucks or Food Vendors needed!
We are taking bookings for food trucks or vendors for our Arts Evening on Thursday 22 September, 5.00-7:30 pm.
Food vendors need to be self-sufficient.
Please contact Joanne Hughson (joanneh@botanydowns.school.nz) if you know of any food vendors that would be available for our upcoming school Arts Evening.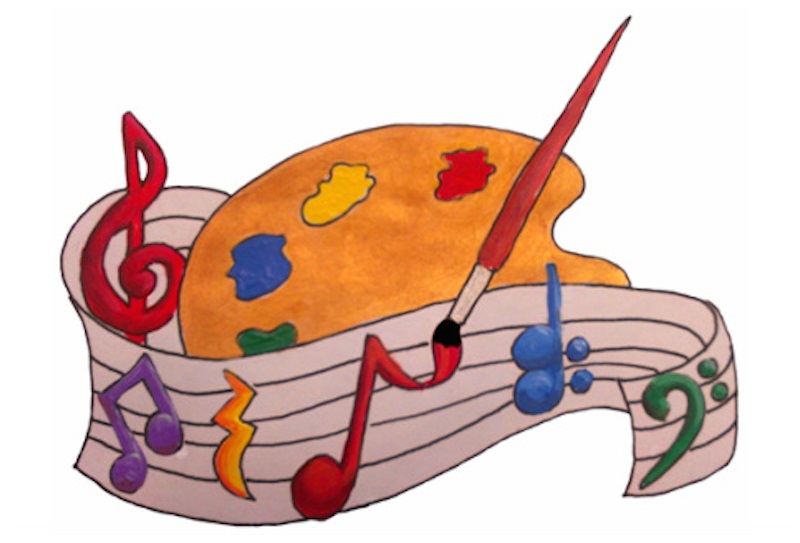 Botany Downs School Boys Soccer Team
The Botany Downs School Boys Soccer Team attended the HPPA Interschool Soccer Tournament last week on Tuesday the 9th and Thurday 11th of August at William Green. The weather "played ball" and the tournament went without a hitch.
The team had a great time showing amazing resilience, sportsmanship and improvement over the two days of the tournament.
Many of the team had very little experience playing soccer before the tournament. The boys had not played together as a team at all. It was fantastic to watch the the team change from shaky beginnings in the first game, to a second game win and finally to a well-oiled soccer machine at the end of the two day tournament.
To the many parents who helped supervise and transport the team members from school and from Stardome to Willam Green, a very big thank you from Mr Huskinson and the team.
Tom Huskinson, Soccer Coordinator (tomh@botanydowns.school.nz)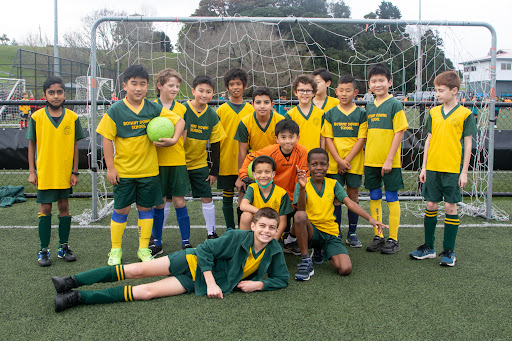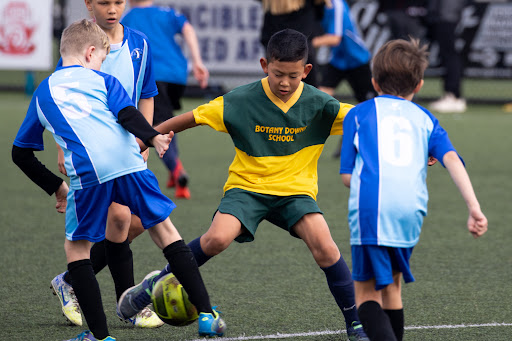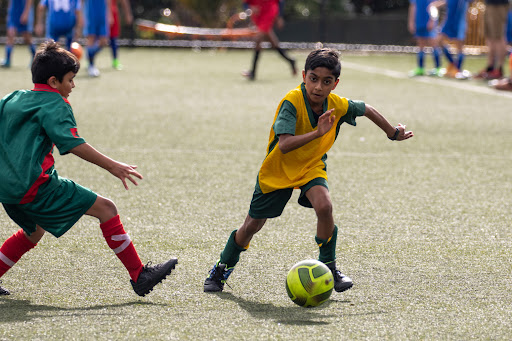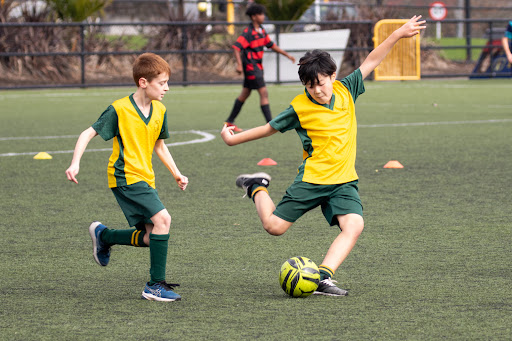 Senior Speech Finals
The Senior School Speech Finals took place on Friday 19th August 2022 in our school hall. We enjoyed listening to a variety of persuasive speeches based around the topic "Discovery".
Congratulations to the Top 2 students chosen from each Year 5 and 6 class who participated – Livia Ramos, Jamie Bruwer, Pamela Sekona, Luise Peng, Emily Su'a, Sienna Tye, Aimee Le Roux, Dion Choi, Sandy Huang, Ashley Field, Shivika Narang, Naya Abou Hassan, Kensie Tate and Alexis Storey.
Congratulations to our winners :
1st place = Ashley Field / 2nd place = Emily Su'a / 3rd place = Sandy Huang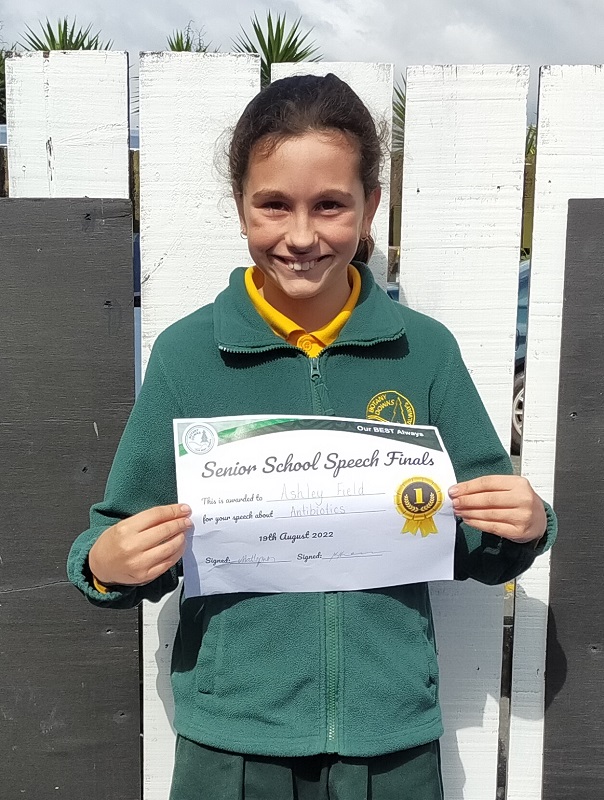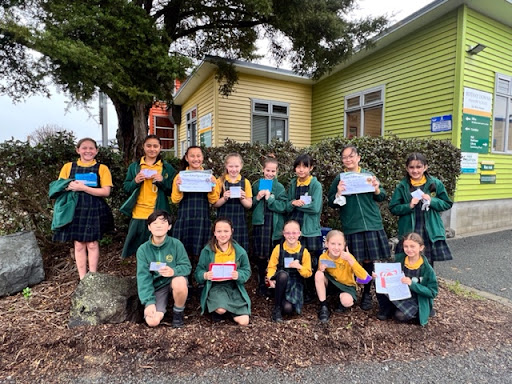 Marae Visit
On 17th August, the Kapa Haka (Year 6s and Year 5 leaders) group travelled to O wairoa Marae, Howick. The purpose of the trip was for our tamariki to learn about our local iwi and the history of the Marae. It was also an opportunity to strengthen the bond and make connections between Botany Downs Primary and O wairoa Marae.
The Kapa Haka was welcomed with a Pōwhiri and from there we shared kai. The students made poi, enjoyed a bush walk behind the wharenui and spent time in the museum to learn about the seven waka that came to New Zealand and the history of our local iwi Ngai Tai, and how they came to be located in East Auckland and in Opotiki.
In the end, our Kapa Haka showed their appreciation by sharing their experiences and thanking Whaea Tiani, Whaea Manaia, Whaea Paia, Whaea Sue, Whaea Liz and Matua Hemi for making us feel welcome.
Michelle Takaiti, Kapa Haka Lead Teacher (michellet@botanydowns.school.nz)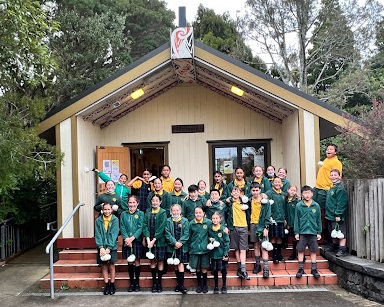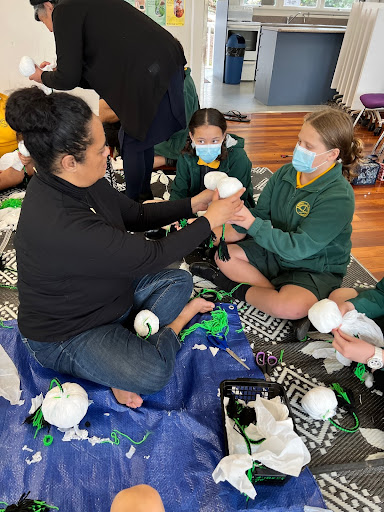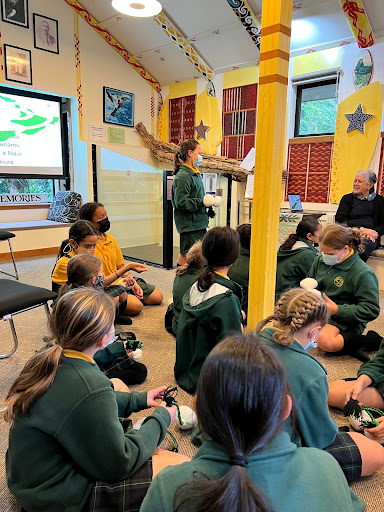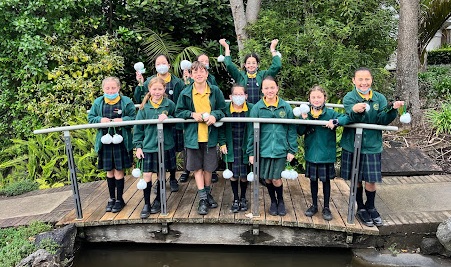 Tamariki Voice:
At the O wairoa Marae, we were welcomed with a pōwhiri and got to go inside the wharenui. That's when we met all of the staff and got to greet them. Then we went back to the wharekai and got to eat. We ate fruit, pizza, banana bread, pancakes and more. We then made poi. We made poi by using wool, string, plastic and tissue! Later on, everybody went on a bush walk and learned about native trees and how Māori people can use their resources. Afterward, Whaea Manaia took us to the mini museum where our group learned about the marae's history. We ended our trip with a beautiful waiata. It was such a cool experience.
Cael Mose
Our Kapa Haka group went on an AMAZING trip! When we first arrived I knew that we were going to have a MAGNIFICENT time. As soon as we arrived, the Marae leaders told us all the rules and health restrictions. After, we had a Pōwhiri and then had some kai (food). It was something I never thought I would be able to do at a Marae. The lovely people at the Marae taught us how to make poi. It was so FUN! As soon as we all finished, Whaea Sue took us to a mini museum and told us about the lady who owned the land. I learned so much. Overall my experience was MAGNIFICENT. I loved going to the O wairoa Marae and highly recommend that you and your whanau go too.
Lene Venter
The Kapa Haka group trip to the O wairoa Marae was wonderful! We got welcomed with a pōwhiri, made poi and went on a nature walk. We learned a lot about the marae's history. When we went on the nature walk we were shown many cool things and we were taught about different types of ferns as well. I personally enjoyed the spirit of the Māori culture and how everyone at the marae was so welcoming and kind. Everyone had fun, learned heaps and loved the trip!
Lily Mai
BDS Learning and Fun
Year 6, Room 14 – Room 14 has been working on Geometry in Maths. We have been learning about nets and made our own shapes such as a rhombic prism, an icosahedron and a dodecahedron.
We have also been learning how to use a compass to make circle patterns.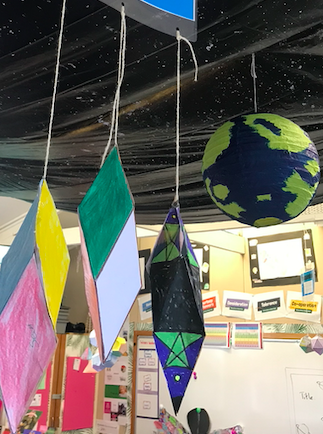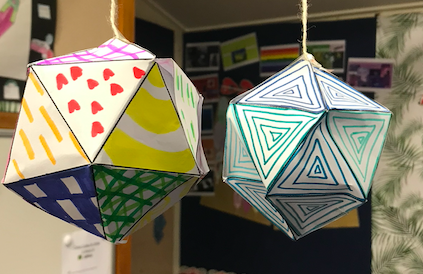 Year 1, Room 8 – Room 8 have been learning the order of the Seasons. We have been learning about what is special about each season and why it is important for our world to have all four seasons. We also shared our favourite things to do in each season:
Winter is wet and cold and sometimes foggy. You wear warm clothes and some mittens and a beanie. Spring is when flowers bloom and grass grows and there are new born baby animals. I love when I can see rainbows the sky.
Chloe Jack
Summer is very hot and you can have icecream as a dessert. You can also go to the beach and have a barbeque. Autumn is colder and the days are shorter. The leaves change colour, and are orange, red, brown and gold.
Jas Kaur
Spring is when the flowers come up from the ground and the grass grows. The flowers are amazing and it starts to get a little warmer. We see rainbows in the sky. Summer is when it is very hot and you can go to the pools and the beach and you can wear shorts and t-shirts and sandals and jandals. I like Summer the best because I can go in my new pool and have a barbeque too.
Charlotte Walsh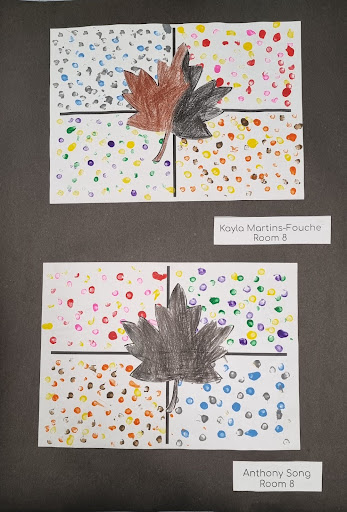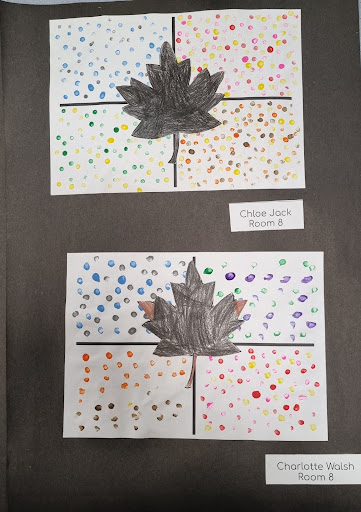 Winter Wellness Guide for Tamariki from the MoH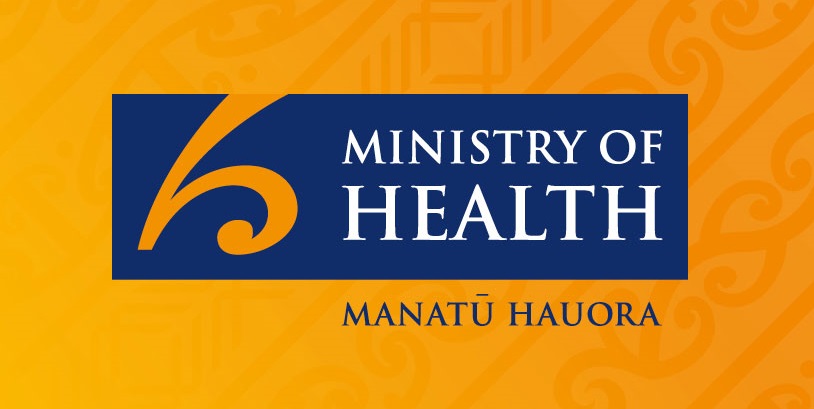 With a rise in COVID-19, seasonal colds, flu and other respiratory infections in our communities, this guidance is to help you manage your child's illness.

KEY WELLNESS INDICATORS
Healthy young children can have up to 8 to 12 colds or upper respiratory tract infections each year. These are a normal part of childhood.

A child must stay at home if they appear unwell or if they develop any of these symptoms: new runny nose, sore throat, cough, fever, vomiting, diarrhoea, rash, they are off their food and drink or show signs of feeling miserable.

If a child becomes increasingly unwell and/or you are concerned about them, call your GP or Healthline on 0800 611 116. A child who is refusing to drink anything is likely to be very unwell.

If an in-person appointment is required, follow your GP's processes, which will include everyone wearing a mask if they can safely and practically do so.

If you or a child you are caring for develops difficulty breathing, severe chest pain, fainting or becomes unconscious, call 111 immediately.
Find reliable information on how to manage colds and flus on KidsHealth and Health Navigator.
Information about health and wellbeing of tamariki and rangatahi – KidsHealth
Health information for New Zealanders – Health Navigator
COVID-19 GUIDANCE
If your child has COVID-19 symptoms, the child and anyone in their household with similar symptoms should be tested for COVID-19.

If any household members are COVID-19 positive, other household members are at high risk of becoming infected. Everyone must isolate for at least seven days from the day that the first person receives their positive test result or becomes symptomatic (whichever is earliest).

All household contacts, including children, need to take a rapid antigen test (RAT) on day three and day seven, or sooner if they develop symptoms. A person who has had COVID-19 in the past 90 days, does not need to isolate again as a household contact.

Anyone who experiences symptoms 29 days or longer after previous COVID-19 infection should test and will need to isolate if they test positive.
If your child:
has been isolating with COVID 19 and is feeling well after seven days, they can return to school

continues to be unwell and/or has symptoms after their seven-day isolation period has ended, they should remain at home to recover until 24 hours after their symptoms end

still feels unwell or their symptoms are worsening after ten days, they should not return to school. Call your GP or Healthline on 0800 611 116 for medical advice.
Find detailed information about COVID-19 symptoms on the Ministry of Health and Unite Against COVID-19 websites.
About COVID-19 – Ministry of Health
Information about COVID-19 – Unite Against COVID-19
HOW TO KNOW IF YOUR CHILD SHOULD STAY AT HOME
If a child has been unwell with a respiratory illness other than COVID-19, they can return to their school 24 hours after they have significantly improved and are behaving/eating normally.

Following vomiting or diarrhoea, a child should be symptom free for 48 hours before they can return.

If a child still has a runny nose or dry cough without any other symptoms such as a fever, vomiting or diarrhoea, they are unlikely to be infectious and could be considered well enough to attend school.

Any child who has a runny nose after a change in temperature – for example, moving from outdoors to indoors – or sneezes due to obvious stimuli (such as the sun or dust) does not need to be sent home.

Hay fever and other allergies can show similar symptoms to the common cold such as sneezing, a runny or stuffy nose and coughing. If a child has a history of allergic symptoms and shows one or more of these symptoms, or an itchy face (especially around the eyes or throat), consider if hay fever or an allergy could be the cause. You may want to check with the child's caregiver to confirm.
IDEAS FOR KEEPING CHILDREN HEALTHY THIS WINTER
Follow this guidance to help keep children and whānau stay healthy during the winter months.
Provide children with healthy and nutritious food to eat. Healthy eating supports immunity and helps our bodies to work well and feel good.
Food, activity and sleep – Ministry of Health
Support children to get enough sleep. Sleep is important for restoring energy, maintaining mental and physically wellbeing, learning, and aiding healthy growth and development.
Helping young children sleep better – Ministry of Health
Encourage and create opportunities for children to be active. Being active at home, at school, at play during the weekends and in the community helps children maintain good health and wellbeing.
Activities for children and young people – Ministry of Health
It is a good idea to encourage children to play outdoors – they just need to be dressed warmly during the winter months.
Being outdoors helps to boost children's immune systems through exposure to fresh air and enables them to make vitamin D from exposure to the sun.
ACCESS TO FREE FACE MASKS
More masks are being provided in the community to help stop the spread of COVID-19. You do not need to have COVID-19 or have COVID-19 symptoms to get free masks.
Both medical masks and P2/N95 particulate respirator masks are available (with people at higher risk of severe illness being prioritised for P2/N95 masks).
Find out about higher risk people:
Higher risk people – Ministry of Health
You can get free face masks by:
picking them up from testing centres and collection points alongside your free rapid antigen tests (RATs)

visiting a participating pharmacy

talking to a participating GP or alternative community healthcare provider.
To order RATs online visit the Ministry of Health website.
Rapid antigen testing (RAT) – Ministry of Health
Alternatively, if you're unable to order RATs online or visit a participating healthcare provider in person, call 0800 222 478 and select option 3.
For a list of testing locations with free face masks visit the Health Point website.
Bright Sparks – BDS Transition to School Programme
We have just completed another three weeks of our "Bright Sparks" visits and we are so looking forward to welcoming this latest group of tamariki into our Library Learning Hub. Welcome to Botany Downs School!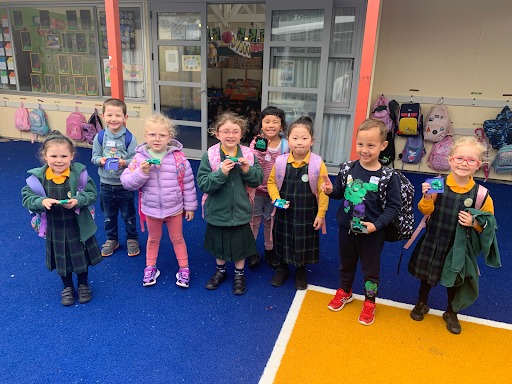 Joanne Hughson DP/SENCo – Year 0-3 (joanneh@botanydowns.school.nz)
Children Turning Five
If your child is turnng five in the next six (6) months please ensure you enrol them as soon as possible. Our roll is steadily growing and we need to plan for classes and teachers during the year. Please collect your enrolment pack from the office, or email office@botanydowns.school.nz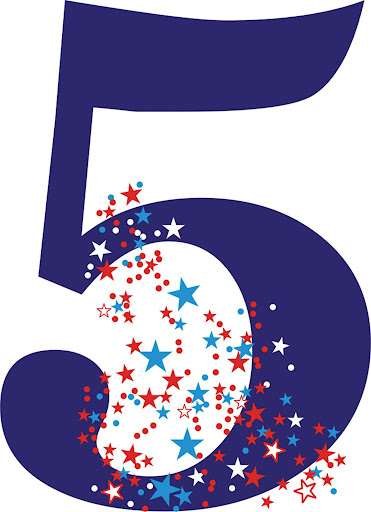 Joanne Hughson DP/SENCo – Year 0-3 (joanneh@botanydowns.school.nz)
Pukapuka Adventures – Family Day Sunday 28 August @Auckland Writers Festival
The annual Auckland Writers Festival is underway and Sunday offers a range of FREE fun sessions for children. The programme is attached to this newsletter and also available here: Pukapuka Adventures
Featuring some of our best children's authors and illustrators, Pukapuka Adventures will be a great day out!
Dav Pilkey's Comic Club
Dav Pilkey is one of the most popular children's authors worldwide, and children LOVE his characters – Dog Man, and Captain Underpants. Here is a fun, free club they can join – follow the link for more information: https://www.scholastic.com/site/pilkey/epic-comic-club.html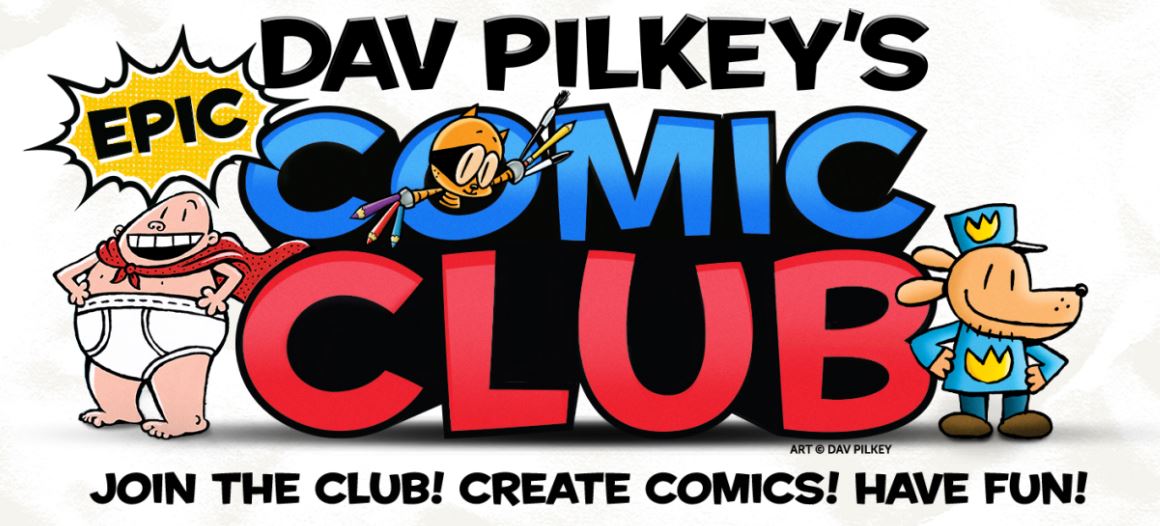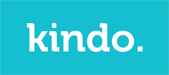 Pay the kindo way: https://botanydowns.school.nz/kindo/
Copyright © Botany Downs Primary School 2022
Click
here
to unsubscribe.